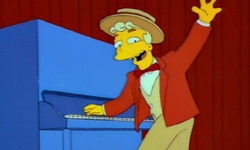 Missing for two months due to my work with the Tampa Bay Lightning, two stories from Wednesday provoked me to step out of the hockey rink for a few minutes and back on to the ballfield. There may be a new ballfield for the Rays in a few years, and it won't star Delmon Young in right field. Both stories have some good points to them, but please allow me to wave some red flags at the new "Stadium at North Haverbrook".
When word "leaked" out about the Rays' new stadium plans, it was a surprise while it wasn't a surprise. Stuart Sternberg's slip-up earlier this year regarding the Trop's five-year "shelf life" made it clear to Rays fans that despite the $20 million invested into the Trop in two years it just wasn't going to be good enough. At that point in time if you didn't believe the NDRO would eventually ask for a new stadium, you had no choice but to believe. But I would think that most fans believed the stadium talk would get hot and heavy when the Rays were hot... not after a 66-win season (following a 65-win season).
Before I talk about the new stadium, I have to talk about the Trop for a minute at the least because it is so misunderstood by people outside of the Bay area. The location is prime; zip in and out from I-375 or I-175 and slip into the parking lot. As I will mention in a moment, the roof and the air conditioning are a Godsend in July in August. The seats are not the greatest, but they're not bad. And if you're complaining about your fat ass not fitting in those seats, maybe you should put the fork down and get a little exercise in your life.
With that said the Trop has its faults, and I always felt it would have to be replaced within 10 or 12 years. I also find it ironic that the company that wants to design the new stadium in St. Pete, HOK Sport, is the same company that designed and built the Trop 20 years ago. I guess we got the intern on the staff for our park while the uppity-up engineers searched new ballpark sites in Baltimore and Cleveland. But I digress.
Knowing full well the Trop would have to go away one day, I often sat in the press box at Progress Energy Park wondering if a new ballpark could fit into the current property lines. It could-- with a shoe horn. No matter how I mentally squeezed the ballpark in to the current real estate, the same question popped up in my head; "Where the hell is everyone going to park?" Interestingly, the new ballpark design begs the same question.
So here we have the artist renditions and it looks nice. That's part of getting support for a new project-- make it shiny and people will like it. Overall I like the idea, especially by bringing some sense of nightlife to the southern part of downtown which hasn't quite grasped all of the fun found around Baywalk just yet. Besides, one of my favorite Irish pubs is nearby (Courigan's... check it out) so a quick drink or five after a game is right there for all to have. And please understand I would LOVE for a new ballpark to be built for the Rays. One on the waterfront in St. Pete, strengthening downtown socially and economically, while allowing the old Trop property to be developed any way to help Central Avenue survive is a great idea. But keep these points in mind as the debate over a new stadium heats up during the next year:
The onus to build this thing is now squarely in the tax payers' hands.
I will never forget this line from Rays' president Matt Silverman (and niether should you) from November 9th when rumors of the new stadium first surfaced, "First and foremost, as Stuart Sternberg has said repeatedly, we will not demand a new stadium." It sounds nice, but that's because they want you to demand a stadium in St. Pete. With how tight the economy is now, and with how hard it is to live in Florida with the cost of property insurance and property taxes, selling the residents of St. Petersburg this is a good deal will be a tough one. And where will this non-demanding money come from to build this stadium? That is the $450 million question right now.
The Rays say they will chip in $150 million, and the future sale and development of the Trop property will also fund the new stadium. But the Trop development is something that wouldn't be finalized until probably 2014 or 2015. That means some heavy debt going into the construction of this site, and debt has to be leveraged with some cash. Public leaders are saying there will be no new taxes, which likely means funds from other expenditures will find its way to the new stadium. Or the lack of "new" taxes leads to the raising of "old taxes" (a political smoke and mirrors favorite).
Regardless of where the money comes from, the demand of the new stadium (as implied by the NDRO) will have to come from the city residents. If the voters turn down the stadium referendum in November 2008, then the NDRO could say the area is not demanding a new stadium so the team will have to look elsewhere for a new home. Hopefully, not any further than Hillsborough County.
Ticket prices will likely go up.
Say goodbye to $10 upper deck seats because there is no third deck and the outfield bleacher seats are limited to left field. By reducing capacity to a two-deck grandstand of just 34,000 seats the Rays create more than just a cozy atmosphere... they create a lot of income on ticket sales. By reducing capacity the team has the opportunity to control ticket prices, both individual and season tickets, since there are fewer options to the general public.
Lew Wolff is doing the same thing in Oakland right now. Even though the Coliseum can hold about 48,000 for baseball, Wolff has decided to tarp off the entire upper deck to reduce capacity to about 35,000. Currently at the Trop, left field (non-prime) seats are $18 a piece. Second-level grandstand seats go for $28 each. With limited options, and the rising payrolls (of the 29 other teams), and those seats easily jump up $5 to $10 apiece by 2012.
I'm not faulting the NDRO for trying to make some money, after all that's what good business people try to do. I'm just letting you know what will happen before you experience ticket shock in 2012.
It's not the heat, it's the humidity.
The new retractable roof designed to keep out rain and heat is creative to say the least. If you're in the outfield seats, you're screwed. Bet you wish there was a roof for those $23 seats you bought? Rain is actually a minor issue for this new stadium though. To me the heat, and the humidity in particular, is the bigger issue.
The new roof is supposed to lower temperatures eight to ten degrees. In Florida summer terms that means it will be a chilly 85 degrees under the roof. On most summer nights the temperature drops to 78 degrees... at 4 in the morning. So to mimic the current 72 degrees in the Trop, a game will have to go to about the 15th or 16th inning. If the team starts its games later, as has been suggested to avoid hot temperatures, then it should be a nice 83 or 84 by the time the 9th inning rolls around at 11:30 p.m.
But the heat is just a minor issue when compared to the humidity. To understand the complete feel of a Rays game, pick any night this summer and sit under a picnic pavillion or your back porch-- for 3 1/2 hours. I've done something similar a few summers ago, watching a Rangers game in Arlington. At 10:30 it was 90 degrees, and my wife and I were drenched in sweat despite having a relatively covered seat in right field. What should have been a fun 13-inning duel between the Rangers and Angels turned into a dreadful wait for the end of the game. Experts are saying the roof will make the atmosphere more like Kansas City or St. Louis in the summer. Have you ever been to Missouri in the summer? It's not exactly a cool breeze in the hills. And did you ever notice where those legendary shots of the thermometer showing its 120 degrees on the field come from? Yep... midwest cities like St. Louis and Kansas City.
Baseball fans will tough it out, but we have quite a few people in this area who don't want to drive to an AIR-CONDITIONED stadium. Will they make the drive to slide out of their seats at the end of the night? Doubtful.
Parking will be a bitch.
Yes there are 12,000 parking spaces within a few blocks of the propsed stadium site, but the lack of on-site parking takes away one of the few good things about the Trop. I've been to games at Fenway Park, Yankee Stadium, Turner Field, and Shea Stadium. We got lost trying to find our way back to the bus stop at Fenway, sat in a sweaty subway station for an hour-and-a-half outside of Shea, and beat away the crowds of homeless people on the way to a MARTA station in Atlanta. Yankee Stadium was flawless only because we had to leave in the 7th inning to get to Long Island in time for dinner. One common theme in these stories is at least I had the option of reliable mass transit to get to and from the ballpark. In St. Pete (or the rest of the Bay area), not so much.
Again, we don't have people willing to drive from outside of Pinellas County for FREE ON-SITE PARKING. Will people make the drive to park at Baywalk and then walk six blocks for a 66-win team. Probably not.
Winning cures all doubts.
Jumping all the hurdles to get the stadium built is one big trick. Putting a winning team on the field to help people forget about the heat, humidity, parking, and higher ticket prices is another. If the Rays want the new stadium to open in 2012, they have four seasons to win. As evidenced in Pittsburgh, Baltimore, Cincinnati, and up until recently Colorado and Milwaukee, just building a new stadium won't bring in the crowds.
Now as for the big trade Wednesday...
It seems like not too many fans are really happy on either side. Basically the trade of Delmon Young to Minnesota for Matt Garza is a trade of promising futures. I find it hard to believe a team would trade the Rookie-of-the-Year runner-up (at the tender age of 22) for a pitcher who has the potential but isn't yet a bonafied starter. Young's attitude stunk, but his bat and definately his defense was a plus. I don't know about you, but I was never looking for Young to be my neighbor or to babysit my kids. Be a good baseball player is all I wanted, and this season he showed that he could. Garza has a lot of upside, but don't more experienced pitchers have upside in terms of actually helping this team mature and win more games?
Oh, and Young's Major League contract expires after next season. If he puts up numbers close to last season, he'll be due a lot more than the $700,000 he'll earn next season. I hate to say it, but I'm sure that was a factor as well.
Bartlett for Harris is a good pickup, and yes he is a stopgap before Brignac makes his way up here. Then again, that's what a David Eckstein or Juan Uribe essentially would have been. There's been a lot of good things said about Eduardo Morlan, but for now he's like any other prospect. If he makes it well in the bigs, than it's a great deal. If he doesn't, he's just another prospect gone bad.
It will be interesting to see how this team rounds out heading into the season. With the stadium issue now out in the open, I'm curious if the sports fans and non-sports fan residents of St. Pete will continue to buy what the NDRO is selling on and off the field.