Hey someone had to do it, right?
Anyhow the blog takes the place of the game thread tonight, after the leap.
For those of you whom enjoyed the last live blog here we are again, the lineups follow and we'll start updating at about 6:55 - 7:05.
Blue Jays
Johnson LF
Overbay 1B
Wells CF
Thomas DH
Glaus 3B
Rios RF
Zaun C
Hill 2B
Clayton SS
Chacin P

Rays
Crawford LF
Zobrist SS
Baldelli DH
Wigginton 1B
Young RF
Iwamura 3B
Navarro C
Dukes CF
Upton 2B
Shields P
Chacin:
P/PA: 3.75
1st%: 58%
Apparently whoever designed the Rays' TV intro was on LSD. Basically it's a giant (blue) ray flying through St. Pete and landing into a giant pool in the Trop that is oddly placed on the infield.
Wow the new video board looks great.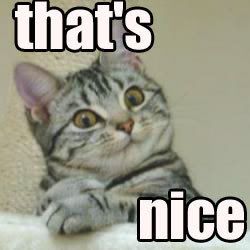 Kitty reacts to the video board
Not to be rude, but Joe Maddon looks a little pudgy without his jacket.
Charlie Crist with the first pitch, gotta love the jersey with jeans look...
Reed Johnson has something on his chin.
Shields 33, I'm still not used to the new number, in fact Shields | 50 was so familiar to me, it tears me up really.
Bossman Junior has been great at second.
Gametime folks, with Toronto in their new 'T' caps.
Shields gets a K out of the gate with his ch-ch-change up.
Aki made a nice tumbleweed-esque roll for a ball down the line but to no avail. I thought the new turf, which looks great, was supposed to slow the ball down?
Shields gets the Big Hurt to pop up and makes the grab himself, 1 for 1, Shields is heading for the Gold Glove folks.
Carl is now 0-11 against Chacin.
A rather quick 1-2-3 inning, did I mention the turf looks great?
Shields: KK with a nasty looking knuckle curve.
Glaus caught stealing. 2 down.
Inning over, Wiggy, Delmonster, and Iwa due up
WIGGY!!!


THE GOGGLES...THEY DO NOTHING!

TAKE THAT CHACIN!
Aki with a single up the middle, and the Rays are looking for a multiple run inning.
Inning over, head to the third.
Aki with a nice knockdown, possibly saving an extra base hit.
Two on as Shields hits Johnson on the back elbow, one out.
Runner advances to third on a flyball to center. The Trop is really starting to look like a ballpark, between last year's additions and the new turf and vid boards along with more ad placement it's starting to feel even more like home.
Half inning over, the Rays up 1-0, 18 outs left to record.
MELVIN BOSSMAN JUNIOR UPTON WITH A HOMERUN


THE GOGGLES...THEY DO NOTHING!
Questionable call at first, inning over with the Rays up 2-0
Upton making 2B look so easy, this folks is why the Rays didn't give up on him.
Zobrist just threw a rocket from short, wasn't needed since he had plenty of time, but it was a high velocity throw no doubt.
1-2-3 inning, through three and a half.
Rocco with a great at bat, worked it from 0-2 to 3-2, only to ground out to third, but really grinded Chacin down a bit.
Chacin answers back with a 1-2-3 inning
Pitch counts so far through four
Chacin: 51
Shields : 53
Wiggy with a nice back handed stab
Another 1-2-3 inning, another K, numero tres.

THE GOGGLES...THEY DO NOTHING!
AKIIII-KNOCK 3-0 RAYS, AKI'S FIRST CAREER HOMERUN.
Two on, nobody out, Dukes has a great at bat, another grinder type, and Bossman is up.
Upton flies out, putting C.C. in a prone RBI chance.
CC now 0-13 lifetime versus Chacin, but the runners advance for Zoey.
Aki homers, but the Rays strand two, 3-0 Rays after five.
Another 1-2-3 inning for Shields, 9 outs to go folks.
Oh and Boston loss to Texas today, a Rays win, and a Yankees loss (trailing 5-2 at least check) means the Rays are in first.
Through six, 3-0 Rays.
A missed dive by Delmon leads to a RBI triple, 3-1 Rays.
Ground rule double, 3-2.
Tied game, Shields hangs himself.
Camp is in, talk about a pressure situation, 1st & 3rd, tied game in the top of the 7th.
Nevermind, it's Stokes, not Camp...get Stoke'd folks.
Stokes comes through, I've got to question leaving Shields in, he looked tired to me, I'm not sure what Hickey / Maddon saw to leave him out there.
Another Aki-Knock, 3-3.
We head to the 8th tied at 3.
Camp is in, Ryu is warming, and we need a DP to get out of the 8th.
5-3 Jays, Glaus just connected and the ball went to sleep deep in the crowd.
Camp just doesn't look confident...at all.
Jae-Kuk Ryu entering the game.
Ryu K's Zaun, the Rays will have The Beej, C.C., Zoey, The Rocc, and the Delmonster due up in the 8th and 9th, we need 2 to tie, 3 to win.
1-2-3 inning, heading to the 9th down 2, hopefully our offense can chalk up two against Ryan.
Zobrist does his best Jeter, but since without the name he doesn't get the call.
Navvi throws the runner out, and the Rays need two outs for their prize: facing B.J. Ryan.
Well let's see if Baldelli, Wigginton, and Young can save Shawn Camp's rear end tonight.
DELMON FREAKING YOUNG!!!! TIED GAME!!!! THE RAYS ARE BACK!!! TIED GAME FOLKS!!!1111111111
Iwamura with a bunt single, 4-4, his fourth Aki-Knock of the night.
Dukes with a base hit, Aki to third, leave it to Beej.
RAYS WIN, LEAVE IT TO THE BEEJ INDEED, RAYS ARE IN FIRST PLACE FOLKS!!!