Yeah it's another off-season column, but this one will be a bit briefer, the idea is that it's time to stop identifying what's wrong and find the solution. Catcher, relief pitching, starting pitching, not in that order are the main positions that need to be addressed before next season rolls around, we'll go in that order, but again, I'm not saying that's the priority list.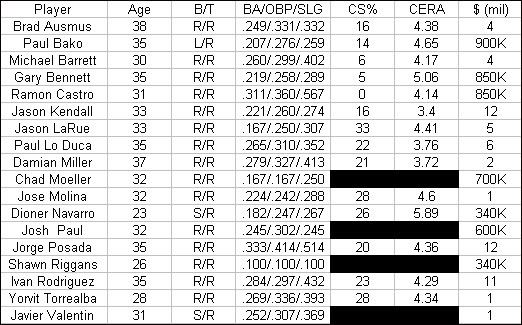 Good ol' backstop, above we see the available free agent catchers minus the immortal Wiki Gonzalez. Let's begin by crossing a few players off of our `whiteboard', unfortunately these are also the optimal targets at this position. Pudge will likely have his option exercised and Posada's heart is in New York. From there Barrett is having an off season and has had some issues with young pitching; although to his credit Carlos Zambrano is a nut. Jason Kendall...no...just no a batting average driven aging catcher is the last thing we want at this point.
That leaves us with a load of mediocrity, yes I threw Dioner Navarro and Shawn Riggans in the mix, but the reality is only Josh Paul is a free agent of our options at catcher, and no I don't consider journeyman Raul Casanova an option. Of the three positions named we should use the least amount of money here, with that in mind I would look at Damian Miller, Ramon Castro, Gary Bennett, ect., it's apparent we don't have a chance to add a legitimate starting catcher through free agency, and if we really want a backup add one of those few, or we could always go with a Steamboat / Battleship platoon, which if you're unaware of what the hell I'm talking about, let's review the nicknames: Riggy the Steamboat, obviously a hat tip to the old pro wrestler Ricky the Steamboat, and Navarro, Navy, built like a Battleship. Did I really need to review those nicknames? Did I really need that last sentence? Will I answer any of these questions before awkwardly moving on to pitching?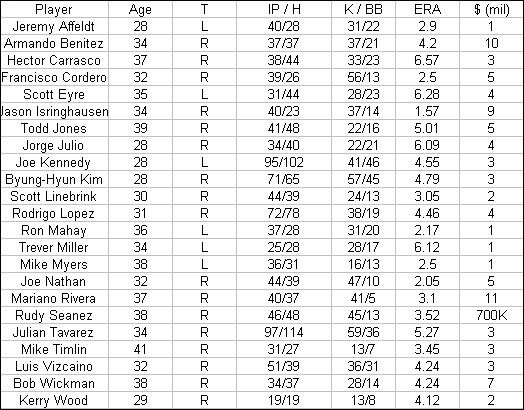 I've said it a few too many times, last off-season was not the time to overpay for a reliever, yes I was on board for Octavio Dotel and David Riske...and Eric Gagne, but that all changes this off-season. If Jason Isringhausen is available, I would give Shawn Camp's left testicle for him and Scott Linebrink. Check that, I would give Camper's left nut for any combination of Francisco Cordero, Izzy, and Linebrink.
I can't see Mo Rivera leaving New York, Todd Jones has been here, and is amongst the league leaders in SHOOF; Scares the Hell Out of Own Fans, even more lame than having three rhetorical questions ending a paragraph? You bet ya! A pair of potential bargain bin chips exists in Jeremy Affeldt and Ron Mahay, although really only one would be necessary, and taking an incentives based shot at Kerry Wood will be a common theme for the next decade from me, assuming I'm still writing here in a decade.
Really the pen is where the money should go, that only makes the rotation stronger by default, and gives them a sense of confidence that they don't have to always bring their A-game or try and overcompensate for lack of previously mentioned A-game, unlike the Killers there won't be any "I don't mind if you don't mind, because I don't shine if you don't shine!" lines.

Taking pressure off of the all ready difficult growth process can only help and I have no doubts the majority of the spending will focus on the pen, the only exception would be adding a starter; one starter. Niemann, Sonnnastine, Kazmir, Shields, Jackson, Hammel, let them fight like Spartans for four rotation slots next spring, if Kaz - Shields - Jack - Niemann is how it settles out then so be it, move Sonny and Hammel to the pen, adding an innings eating, PRO ( I don't buy into the whole `vet' `experience' arguments, instead I go with Pretty Reliable Overall meaning you know what you're going to get; in this case 200 innings, 4 or less ERA)  pitcher would be a fine addition.
The top SPs as I see it would be Paul Byrd, Livan Hernandez, Freddy Garcia if healthy, Kyle Lohse, and Carlos Silva. The first two, maybe three would likely demand contracts in the 3-4 year range worth 7-10 million per, the dark horse out there would be Jason Jennings, who Buster Olney speculated the Rays might be interested in during the summer, take it for what it's worth.
The key: add some money to the payroll, extend Kazmir if you see fit, which could put you around 20 million, add two-three pen arms (Affeldt, Cordero, Linebrink for both of Camper's gonads) and maybe a starter and I'm willing to bet this team would win 75 games next year, and it wouldn't matter who's managing, and really who's starting, as the Killer's sing: