I know spring training means nothing, but as Tommy Rancel commented to me, after the strides made this off-season a spring full of victory and health would be the perfect appetizer to the regular season. I can't agree more, for Barrack Obama of baseball - the team that has stressed change since the off-season began - showing signs that we're serious, and we're ready now begins in the spring.  The games may not matter, but the effort does.
Onto today's game, Jeff Niemann started and only lasted one inning. He threw too many pitches to be alloted a second inning of work, essentially the black mark on his candidacy for a rotation spot in my mind. Scott Munter gave up a run, and Wade Davis struggled in two innings of work, luckily James Houser Jr. finished the game, but boy was it closer than you'd hope, 7-5.
Offensively Evan Longoria didn't do anything heroic today besides saving a kitten stranded in the corridors of beautiful McKechnie Field. B.J. Upton had a triple, Cliff Floyd a double, Andy Cannizaro, Ben Zobrist, and Chris Richard added an RBI apiece as well while the Pirates made three errors. As a side note, Jason Bay really doesn't want to be a Pirate, misplaying the first three balls hit his way.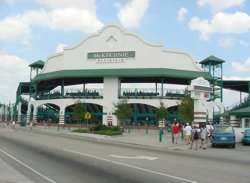 Matt Garza will face Jeremy Bonderman tomorrow in a match-up of two teams with busy off-seasons.
Also, watch this for Longoria pictures. Hat tip to reader SRQMan not only for the vid and pics, but for the obvious new nickname: Evan "Encore" Longoria. Maybe Encoria?