An ideal leadoff hitter has speed, makes great choices on when to swing, and great contact when he does. Desmond Jennings as a prospect for the Tampa Bay Rays featured all of those tools.
When Jennings reached the majors in 2011, his contact took a bite when facing major league pitching, but that was also based on a small sample size of only 287 plate appearances. Jennings flashed a great glove with 20 HR/40 SB potential, and there were high hopes for him. When he returned in 2012, he assumed the role of leadoff hitter but disappointed with only moderate success.
In his first full season, Jennings was able to improve his contact and continue to display excellent speed, but wasn't able to get on base like he should. To me, this begs a question:
Should Jennings be leading the Rays lineup?
Plate Discipline and Speed
Using the contact rates from Baseball Info Solutions (which is slightly more optimistic that Pitch F/x but just as consistent), we can judge how Jennings performed against the rest of the roster and see how he compares to other possible leadoff candidates.
Last year, Jennings only swung at 27% of pitches outside the zone, and made contact on 70% when he did. Well above league average, and not too shabby. On pitches inside the zone Jennings tried for only 60% and made contact only 85% of the time. This aspect needs improvement. Taken together that's an 80% rate of contact, only slightly better than the year before, and Jennings could do better.
Only Ben Zobrist (84%) and Jeff Keppinger (93%) had better overall contact in 2012, but neither player should be leading off for the Rays.
Keppinger, a career high-contact hitter, finds success with similar swing rates to Jennings but with slow legs, normally relegating him to a cleanup roles to move runners. He also signed with the White Sox as a free agent this year, so he won't be threatening Jennings for the leadoff position.
By contrast, Zobrist maintained high rates of contact by being far more selective, offering at only 37% of pitches that came his way. His keen eye gets him on base, but if you add in the difference in speed, you'll see it makes sense to leadoff with Jennings and bat Zobrist second.
Using fangraphs's leaderboards, we can judge performance on speed quite easily. Jennings led the Rays and notched a career high 8.1 BsR (fangraphs' score for base running performance) with 31 stolen bases in 2012, while Zobrist saw his score drop below 0 while nabbing 14 bases. Advantage Jennings.
Additionally, Jennings's Spd score (a similar statistic developed by Bill James) has never dropped below 8.0 in his career -- which indicates a potential to nab 50 bases if he were free to run all season. Zobrist's career high in Spd is 6.2, and he averages at 5.5. Combining contact with speed, Jennings at lead-off should work quite nicely.
Side note: One free agent acquisition that could challenge Jennings for the leadoff role is Yunel Escobar. The new Rays shortstop makes contact above 85% for his career, with rates above 90% when swinging in the strike zone. Advantage Yunel. Like Jennings, he swings on pitches inside the zone in the 60-70% range and is very selective outside the zone, but Escobar doesn't have the same speed. Single digit steals, a below zero BsR, and a Spd score of 3.3 do not suit a leadoff hitter. Escobar is also on the wrong side of 30, so unless his speed dramatically increases in 2013, Jennings it is.
The most impressive aspect to Jennings's speed may have been how un-phased he was by a sprained knee, which he suffered in May last season. Jennings did not try for as many stolen bases as was expected until the second half of the season, but he was only caught twice in 2012.
So, DJ was able to trend his contact slightly up in 2012, and he's the best fit at leadoff. That doesn't answer why he wasn't getting on base.
After averaging around .375 OBP in the minors and producing a .356 OBP in the second half of 2011, Jennings notched a disappointing .314 in 2012 -- below league average. To look at a few reasons why, let's start with his approach.
Finding Line Drives
In 2011 Jennings managed only 17% line drive production, not ideal. The following season his LD% increased to 20%, but came with a cost - an infield flyball rate that nearly doubled from 9.4% to 18.1%. Jennings also experienced somewhat of a power out. After stroking 10 homeruns with a 16% HR/FB ratio in 2011, his homerun production rate halved. These are all problems.
To identify the source, I first turned to Jennings's heat maps to see if his approach changed in 2012. It did.
Jennings 2011:
Jennings 2012:
Jennings began offering at the lower third of the strike zone (and below!) far more often in 2012, with a curious result. Swinging at lower pitches normally would drive up a player's ground ball rates, but Jennings actually saw his drop significantly, coinciding with his spike in infield flyballs. It's hard to decipher if the change was intentional, a product of pitch selection, or if Jennings was suddenly fooled at the plate, but my hypothesis is that Jennings made a concerted effort last season to reach the bottom of the strike zone.
This may have begun with a shift in Jennings posture. As I reviewed games from the last two seasons, it seemed to me that DJ was bending lower at the plate in 2012, possibly to get under pitches and give his swing a bigger cut.
To illustrate the point, I found two late season jacks from Jennings placed about three inches apart from each other in the strike zone. Both at bats featured a hard swing at a pitch in the middle of the strike zone, one year apart:
2011:

2012:
Both plate appearances would net Jennings a home run, but there was a noticeable difference. Jennings dipped his back leg lower in 2012, taking his center of gravity off his front leg and crunching his torso in the process. This didn't keep him from turning with his quick swing, but extrapolated over a full season, may have been the source of his higher flyball tendancies.
If my observation is true, I wonder if Jennings was simply trying to take pressure off his left leg, which suffered a sprain in early May last year.
It's also possible that his change in batting stance was a product of hitting coach Derek Shelton. Jennings doesn't have many extra based hits to his name, but has speed to leg them out when the opportunities arise. It's a worthy cause to try and up his line drive percentage, even if it did not prove as fruitful in 2012.
Results
In the end, Jennings was able to increase his line drives from 17% to 20% last year, but at the cost of offensive production. His wOBA dropped from .355 to .309, and his OPS+ from an impressive 127 to just shy of league average at 97. Perhaps getting under pitches with a healthy front leg will net more positive results.
Luckily, Saturday was the Rays first spring training games of 2013, and Desmond Jennings was batting second against John Lackey and the Red Sox. He recorded the first two hits for Tampa Bay, swinging on the first pitch he saw, center and high in the strike zone for a single through the left side. The pitch allowed Jennings to stand tall in the batters box with a great result, but not as comparable to my earlier observation.
In his second at-bat, Jennings went after the first pitch again. This time he found a double on a pitch middle-outside, and its the second swing that compares well to the images above. Desmond still had his back leg bent, but his body stayed more upright and produced an well hit ball that lofted deep into left field, bouncing off the green monster of Fenway south.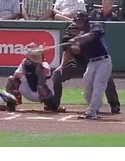 This is a small sample of Jennings at bats, so there is a decent amount of uncertainty in my observation. I am by no means an expert; however, Jennings certainly used the off season to improve his swing, and we may already have seen early signs of improvement.
Most systems are projecting a .320 wOBA for Jennings in 2013. Given the improvements, and Jennings's new game plan to relax at the plate, that shouldn't be too far off the mark. Here's to hoping for a taller swing, a few more line drives, and even more positive results.
For more, you can read Part 1 of our season preview: Desmond Jennings, Natural Center Fielder.